WOULD YOU LIKE TO SHARE SOMETHING YOU LIKE ABOUT ALFREDO'S?

Look at what people are saying about us

- Vincenzo Viscariello,   Torrington

Alfredo's is the best in Torrington, Not just because he's my brother but the things Alfredo's does for the community is beyond what some other bigger franchies don't. Great prices and the amounts they give makes the difference. REAL Italian food prepared by ITALIANS.





We [at Ron's Automotive] order from the daily specials quite often  because  it's all made fresh daily, arrives right on time and the prices are great.



The Mediteranean Chicken rocks!!  It's my favorite grinder out of every place in town. 

-Rob Manion,   Torrington



I travel all across the state each day for work, so I've eaten at many establishments.  But I must say my favorite days are when I'm cutting through Torrington and I have the time to stop at Alfredo's.

-Steve Alfieri,   Torrington



Phone:  860-482-1888           Fax: 860-482-3885

© 2015 Alfredo's Italian Eatery and Cafe. All rights reserved.


Alfredo's is got to be one of the best in town. Every time i go in there i feel like a part of the family, so keep it up guys your doing great

Thanks, Jimmy



The atmosphere, people, and food are great! It is one of my favorite places to stop for lunch!



O&G rates Alfredo's the #1 Restaurant in Torrington!

The best place around to get delicious Italian food is from The Viscariello Family at Alfredo's Deli.

O&G not only places daily orders for individuals, but you can count on Alfredo's to provide excellent timely catering deliveries for meetings from 10-150 people. The food is reasonably priced, always fresh, steaming hot and so tastey you think you were in Italy.

You can also stop in and eat at the counter/tables and enjoy the friendly family atmosphere and yummy food. Not to say the least about the unbelievable personalized service you will get from the Queen of Alfredo's, Joanne, who makes sure everyone is taken care of from soups to nuts, and of course Maria, Alfredo and staff.

I can't thank Alfredo's enough for the excellent food and service they provide us. I can always count on them to come through and dealing with such wonderful people is the added bonus.

-Christine, O&G Industries Inc.


The girls and I love to grab lunch at Alfredo's.  And since we work just down the street, it's nice to take a short walk to get lunch.  We like to enjoy our lunch out front under a shady umbrella.  It's a fun Italian atmosphere and the food is great.

-Dawn Geiger,   Torrington


Alredo's is the finest place I have ever eaten at, in Torrington. Now, at 80 years old, I still make my way down there to get my favorite panini every chance I get. Thanks you guys for doing what you do and sustaining an awesome eatery.



A note of thanks for all your support of the DAV Mobile Service over the past years.  The best service and food!

Your support of our Veterans says it all.

-Disabled American Veterans, Dept. of Connecticut




Your Testimonial Goes Here!!

Please Fill Out the Form on our Contact Page...and please remember to include your Name and Town
Thank You!!



The creamy chicken wild rice soup with a sandwich is unbelievable!  People there treat you like family.  Best lunch spot in the Northwest corner!



Italian food is one of my favorites.  Any time I can meet my boyfriend for lunch, I drag him all the way accross the other side of town because I love to eat at Alfredo's.   The Meatball Three Cheese Wrap is the best.

-Terry Carl,   West Shokan NY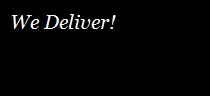 Location:

168 Water Street

Torrington CT 06790

Store Hours:

MON-FRI  9:30AM-4PM

SATURDAY: 11:00AM-4PM

SUNDAYS: Open for Catering Only